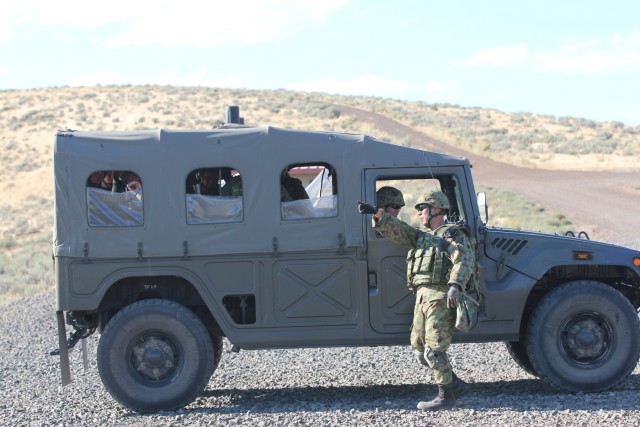 YAKIMA, Wash. – The midday sun shines on transit buses as they come to a stop. Moving with determination, dozens of men disembark and collect their equipment and baggage. Even without a uniform, these troops wear coordinated civilian dress in the form of white shirts and matching black trousers. Officers supervise while NCOs give instructions to the younger members of the group for barracks movements. This direction, however, is not in English, but in Japanese.
Now in its 21st year, Rising Thunder brings together the best soldiers Japan's Ground Self-Defense Force has to offer for the opportunity to train alongside their U.S. Army counterparts at the Yakima Training Center here in Yakima, from August 27 to September 13. The year is no different, as the 25th Infantry Regiment, part of Camp Asahikawa's 2nd Division, sends 123 of its most able infantry to show what happens when allies serve together.
"One of the things I've noticed working with the Japan Ground Self-Defense Force is that they have great attention to detail and precision in what they do," said Sgt. Major Russ Creviston, the battalion operations sergeant major of the 2nd Battalion, 130th Infantry Regiment, 33rd Infantry Brigade Combat Team, Illinois Army National Guard. "It's very clear that the structure and discipline of their force is a defining characteristic that they are very proud of."
The name of the game for the 25 is attention to detail. Their vehicles are as uniform as their traveling outfits, parked neatly in line and awaiting the start of the exercise. This attention to detail permeates every aspect of their service, from the port to the execution of maneuvers.
"Unity and morale strengthen our unit," said Col. Onogi Hideki, commander of the 25th Inf. Reg. "Our goal is to learn Bushido and think 'maintaining discipline', including preserving good manners. It is one of (our) spirits that we act as a member of society when we are not don't wear a uniform."
Putting the best foot forward when conducting international training is second nature to the 25th Inf. Reg. They are professionals from start to finish.
"Throughout the exercise planning process, 2nd Division planners were meticulous in providing organized and detailed products to share with our battalion," Creviston said. "Their officers and soldiers are calculated in how they interact with our forces and how they present themselves."
JGSDF leadership selected these soldiers for their preparation and skill. Upon returning home, they will apply their training to emergency response efforts and community support missions. While in Rising Thunder, however, they build relationships and represent their nation.
"We play a lot of basketball with them, which is actually a lot of fun," Spc said. Enrique Cardenas, infantryman of the 1st Battalion, 178th Infantry Regiment, 33rd IBCT. "They are actually very fast. Even though communication is difficult, with our language barriers, they always put in the effort and we put in the effort and it's actually surprising how smooth it has been."
Rising Thunder 2019 will culminate in a combined bilateral exercise on 9/11 that will test the mettle of infantrymen as they push themselves and their U.S. Illinois National Guard partners toward mission success.
"The 25th Inf. Reg. hopes to carry out the mission as a central unit for collaboration with various professions," Onogi said. "Precision is important in collaborative crafts. For this reason, we always train with it in mind."