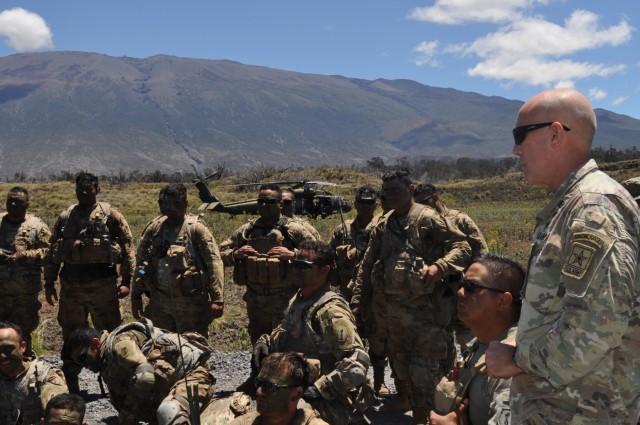 Hilo, Hawaii – Lt. Gen. Charles D. Luckey, Chief of the Army Reserve and Commanding General of the U.S. Army Reserve Command, visited the 9th Mission Support Command and the 100th Battalion of the 442nd infantry regiment, during their annual training at the Pohakuloa Training Area on the island of Hawaii.
No Army Reserve unit is more historically famous than the 100th Battalion, 442nd Infantry Regiment, being named the unit with the most Medals of Honor in the entire US Army. The 100th Battalion, 442nd, has five companies, scattered across the Pacific, and carries on the "Go For Broke" legacy as the Army's only reserve infantry battalion.
During Luckey's visit, he observed Charlie Company as they began to prepare for their squad tactical exercise. He maneuvered with them throughout their scenario from the squad leader's briefing to movement, contact with opposing forces, end of exercise, and finally after action review.
He then took this opportunity to speak with the soldiers to show his appreciation for them and all they do.
"I'm always asked to be in different places at the same time. But I wanted to be here," Luckey said. "Where you are going says more about what you care about than what you say. Showing up is the most important statement you can make. That's why I'm here."
He also answered questions from soldiers, discussed the new Double Eagle app and the upcoming Army Combat Fitness Test.
Luckey then continued his tour with Bravo Company as they conducted a platoon live-fire exercise, walking through the scenario as they fired M240 machine guns and 60mm mortar rounds. After the successful script, he congratulated the company on completing its AAR.
"Phenomenal work to carry on the legacy of this unit," he said. "I'm really proud of you."
Brigadier General Timothy D. Connelly, commanding general of the 9th MSC also expressed his gratitude for the Soldiers. "Proud as can be of our awesome Soldiers," he said. It was an honor and a privilege "to be out there with Double Eagle Six".
Finally, Luckey participated with the 740th Forward Support Company as they conducted convoy operations. After speaking with individual soldiers, he spoke to the group about the importance of work-life balance.
"We talk a lot about families, especially in the US Army Reserve," Luckey said. "We always talk about how our challenge is to be ready enough to be relevant without being so relevant that we can't maintain good, meaningful civilian jobs and healthy family lives."
Luckey ended his trip by addressing the leaders.
"It's about us working for our soldiers, making sure we're taking care of the mission and taking care of the team, generating capability and capability to do what the American people expect of us. "